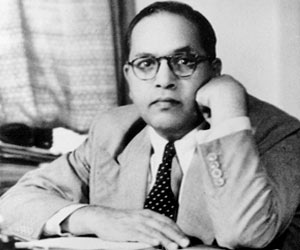 Babasaheb Ambedkar is in news once again and this time Babasaheb ambedkar is not in news because of behn mayawati but because of CBSE (Central Board of Secondary Education) .One of the books of CBSE has cartoon in the 11th standard social sciences book was defamatory.  The cartoon had shown Ambedkar astride on a snail and Jawaharlal Nehru standing behind brandishing a whip. The text in the book was also critical of Ambekar stating that he delayed the process of framing the Constitution and worked on it at 'a snail's pace'.
Now the constitution of India is longest constitution in the world and it was framed in just span of approx 3 years!!!!!!!!!!!…Now those who know anything about Indian Constitution would agree that it is one of best constitution possible and country like India stands tall today just because of foundation provided by constitution.
As chairman of drafting committee of constitution of India , baba ambedkar did a fabulous job and credit for the constitution must go to him and his team.
There where many school of thoughts which shaped modern India and every school of thought has had its influence . During freedom struggle of Indian Independence , mahatma gandhi was one of school of thoughts. Though it was most impacting , powerful school of thought but other school of thoughts too existed. Bhagat Singh , Subhash, Baba Ambedkar , Mahatma and Jinnah can be said as five most impactful leaders of subcontinent . I am not stating name of sardar patel because he can be said to be part of Mahatma Gandhi's school of thought.
Now Jinnah is forbidden word in India but none can deny his impact . We may not like it but he did create another country out of it.
Coming to two martyrs bhagat singh and subhash chandra bose , both have huge huge impact of psychic of Indian and rightly have become immortals for all of us.
Now let us talk about another big leader , dr bhimrao ambedkar. Born as dalit bhimrao ambedkar is not just chariman of constitution committee , he is symbol of hope, will power and what is possible. He is symbol of freedom , true freedom.
If we put our shoes in dr ambedkar's shoes , well life would have been really tough. Ambedkar was born in two kinds of slavery. One which all Indians born in ambedkar era inherited that is British Raj and second one which ambedkar inherited because of being born in particular caste. The slavery due to social evil and slavery which would have continued even if brits would have quit.
It is not easy to be Dr Ambedkar . But just using his sheer will power and power of education he stood tall and great people like gayakwaad paved way for him. Ambedkar according to me in not just dalit neta , he is leader,icon,symbol of freedom. He is martin luther king of India or rather marting luther king is ambedkar of united states of america.
The attempt to discredit him in cbse book is trend which congress followed since independence. Systematically , skillfully , willingly they projected nehru as heir of mahatma and nehru clan as being rightful heir of legacy.
As noted historian Ram Guha puts it that makers of Modern India where incredible people like sardar,mahatma , ambedkar and many others and this attempt to discredit ambedkar must be criticized in strongest possible way.
Ambedkar cartoon : An Attempt TO Discredit Ambedkar?